Since its inception in 1985, Graham Edwards Trailers have continued to grow in both stature and creativity. We now manufacture 10 trailer types with over 50 standard models available.
As well as our much established range of Livestock and Flatbed trailers we also manufacture Plant, General Purpose, Tipping, Tractor Drawn and many bespoke trailers to suit our customer requirements. All our trailers have full EU Type Approval.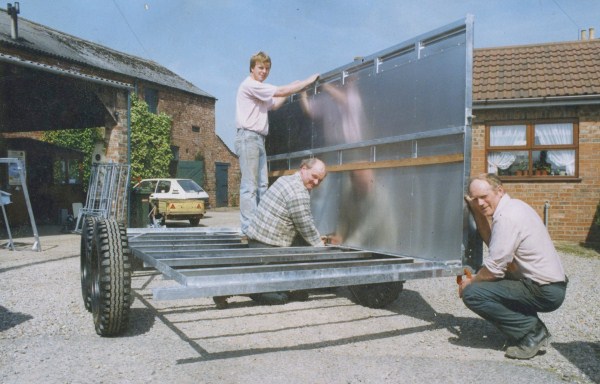 We are located near the village of Stamford Bridge, 6 miles east of the historic city of York. Our purpose built facility provides a full range of functions from fabrication right through to assembly, finishing and ultimately sales. We have over 30 agents nationally covering the length and breadth of the UK as well as other agents covering Ireland and mainland Europe.
The backbone of the company's philosophy has always been to build up to a standard and not down to a cost. It is this philosophy which has driven forward our design and fabrication teams to create our unique range of highly versatile livestock and commercial trailers that provide our customers with a robust and reliable means of conducting their business.
History
The Beginning 1985
In 1985 Graham Edwards founded Graham Edwards Fabrications Ltd after leaving his employment at a farm in the local area. Operating out of Bolton, Graham undertook all kinds of fabrication work. The company also undertook small bespoke trailer units, notably camping trailers and small box vans.
Step by Step 1989
4 years later in 1989 Graham Edwards Fabrications Ltd took on their first employer Martin Garside. Together they developed the idea for a livestock trailer to introduce to the trailer market.
Next Generation 1991
A couple of years later in 1991 Grahams son, Matthew Edwards joined the family business. Matthew spent much of his time visiting livestock markets including Otley market and York market, selling the new livestock trailer range. The trailers proved popular and livestock trailer production took off.
The Big Move 1994
In 1994 the company outgrew the site at Bolton and moved to the present 8 acre site.
Rebranding 1996
The business, now concentrating on trailer manufacture decided to change the name to Graham Edwards Trailers Ltd.
Expansion 1998-2001
From 1998 the company expanded on the current workspace at the Full Sutton factory. A new trailer assembly workshop and office were built in 1998. Not long down the line in 2001 a new fabrication workshop was built to cater for the growing workload.
Design and IT 2006
In 2006 Martin Garside managed the introduction of solid works computer design software. This helped with the production and design of the trailer range.
Approval 2011
Graham Edwards trailers had the complete trailer range approved by the RDW in 2011.
Trailer parts & Ecommerce 2013
With the demand for trailer parts rising due to the dealer network and the amount of Graham Edwards trailers being produced, it was decided to introduce a parts department with a new e-commerce website to match.
Sales & Service 2014
2014 saw a purpose-built service workshop to look after customer service requirements and to recondition part ex trailers. This created Graham Edwards trailers a new department for sales and service, managed by Alex McCallum.
New Machinery 2015-2017
From 2015 the company has invested in a New CNC press brake to enable more parts to be manufactured in house. Not long after in 2017 it was then decided that the company would buy a laser cutter that was housed in a purpose built workshop.
New Parts Shop & office 2021
In 2021 the factory was extended to incorporate a new onsite Parts Shop, Dispatch area and New offices.